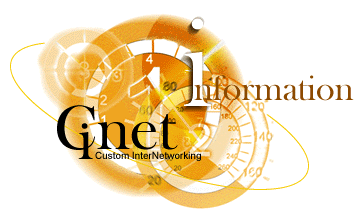 Custom InterNetworking (CiNet) is Madison Wisconsin's Internet Solutions Center. We specialize in Internet connectivity for the large Corporation on down to the home user.

CiNet, has the latest in equipment and technology to provide your company with high speed, reliable Internet connections. Our staff in second to none with specialist in LAN and WAN connectivity, Internet Security, Network Design and Network service.

CiNet is more than just an Internet service provider. We are a complete "all one in" solution for you business. We can provide you with everything from Dial-up connectivity, to leased lines to web hosting, to networking consulting, sales, and service.

Sales and Service
Check out our Sales and services page for a partial listing of the services and prices we offer.
Search the Entire CiNet web site by key words.
Contact Information
Find useful contact information, e-mail address, phone numbers, and an easy to use mail form.

- Custom InterNetworking  -  6406 Odana Rd  - Madison, WI 53719 -
        - Phone 608.277.8000  -  Fax 608.276.6406 -